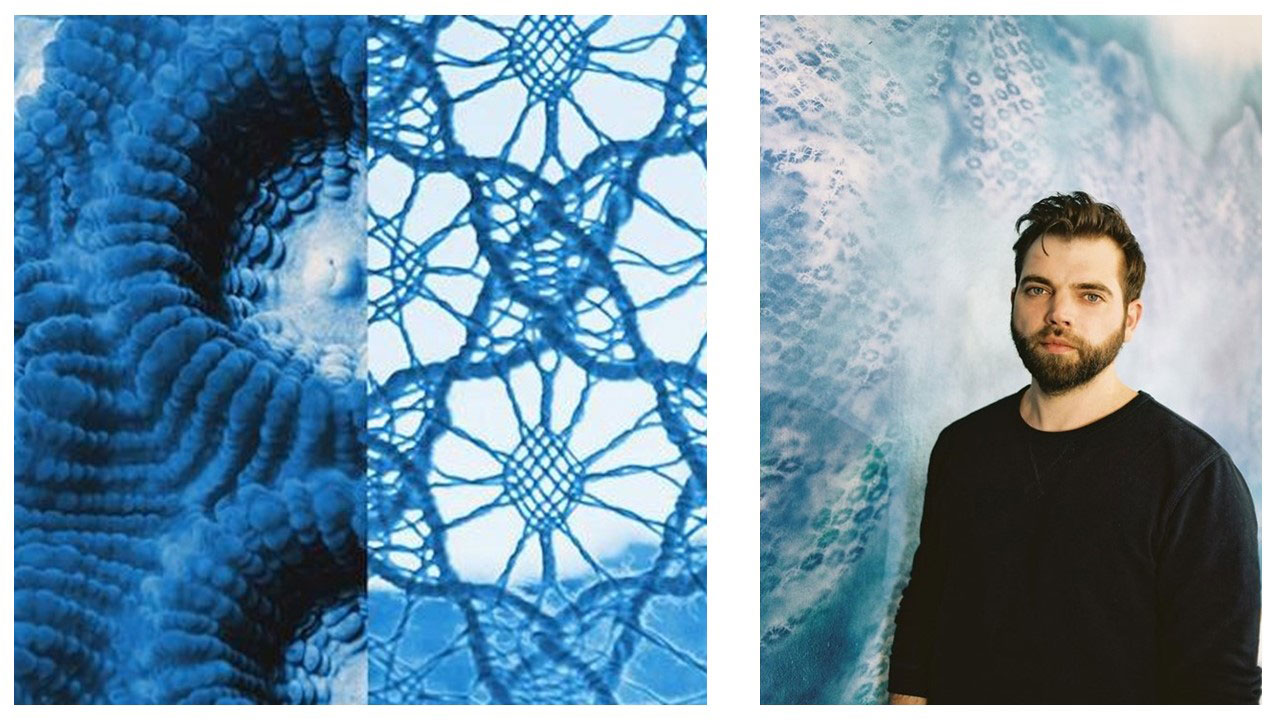 "An art that is lively does not reproduce the past but perpetuates it". The story of Corail Artefact could be told as an allegory of this statement made by Auguste Rodin more than a century ago. This story is mainly that of an encounter between a man and an object whose aesthetics have altered the course of his life. Walking through an Emmaus market, Jérémy Gobé came across a coral whose unique shape inspired him to start an ambitious project, which later became Corail Artefact. This Research, Development and Innovation (RDI) program aims to associate art, science, industry and education to safeguard the existence of two endangered fabrics: the coral fabric and the French industrial fabric. Now known for his works exhibited all over the world, from Dubai to Paris to New York, Jérémy Gobé's work within the framework of his structure can be read as the artistic materialization of the 3Zero's aspirations: those of an ever-renewed ambition to embrace the social, economic and ecological dimensions in a single movement, leading individuals towards a more responsible and inclusive future.
"Before moving to Paris, I lived in Lorraine where I could see all the textile factories closing down around me. The textile material became familiar to me, it is the material of my sculptures and the material to which I return when I have doubts or when I need to feel good."
Summer 2017. On invitation of the Lyon-based association HS-Projets, Jérémy Gobé traveled to Clermont Ferrand to participate in the 2018 edition of the International Festival of Extra Ordinary Textiles. Drawing on local customs, he created a work inspired by the traditional lace technique of Le Puy en Velay, the bobbin lace, which is particularly expressed in an emblematic lace stitch: the spirit stitch (or "point d'esprit"). The motifs of this technique immediately brought back the image of the coral that he had previously encountered, inspiring him a year later to create Coral Artefact. Since then, the project aims to explore solutions halfway between science, industry and art to save the coral and the French textile industry.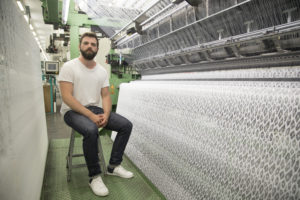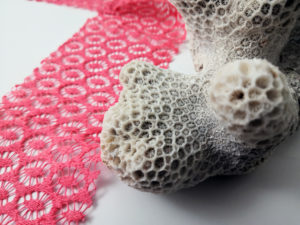 "The art market has distanced the artist from society," regrets Jérémy Gobé. And yet, art also has a vocation to invite individuals to enter into a relationship of proximity with objects: where coral reefs seem to cover a distant reality for an urban dweller in metropolitan France, the work of art reminds us that we are nevertheless intimately linked to their survival.
The destruction of coral reefs, which act as a protection of the coasts against the ocean swell, logically leads to consequences on the coastal populations, then forced to abandon their lands. With its 57,557 km² of coral reefs in the world's three oceans, France is the 4th country with the longest reefs. This particular geological arrangement imposes a moral and practical responsibility in their preservation.
Faced with the alarming disappearance of these living species, Corail Artefact has worked on the creation of a "lace 2.0" capable of protecting and regenerating corals. This cotton lace, enhanced by special fibers, is an ideal support for regeneration. Indeed, it has three major qualities for the regeneration of corals: roughness, flexibility and transparency, in addition to being biosourceable, biodegradable and biomimetic. In parallel to the scientific protocol established for the creation of this lace, an ecological concrete has been developed to help corals to fix themselves, and plastic has been banned from production. Corail Artefact now offers aesthetic objects that are environmentally friendly since they are based on 3D prototyping with ecological, biosourced and compostable materials.
Through the "Children Ambassadors" project, Corail Artefact adds an educational dimension to its ambition to decarbonize its production activities. Children, mainly from underprivileged areas, are invited to participate in scientific, manual and creative activities to become young ambassadors for the protection of corals and the environment.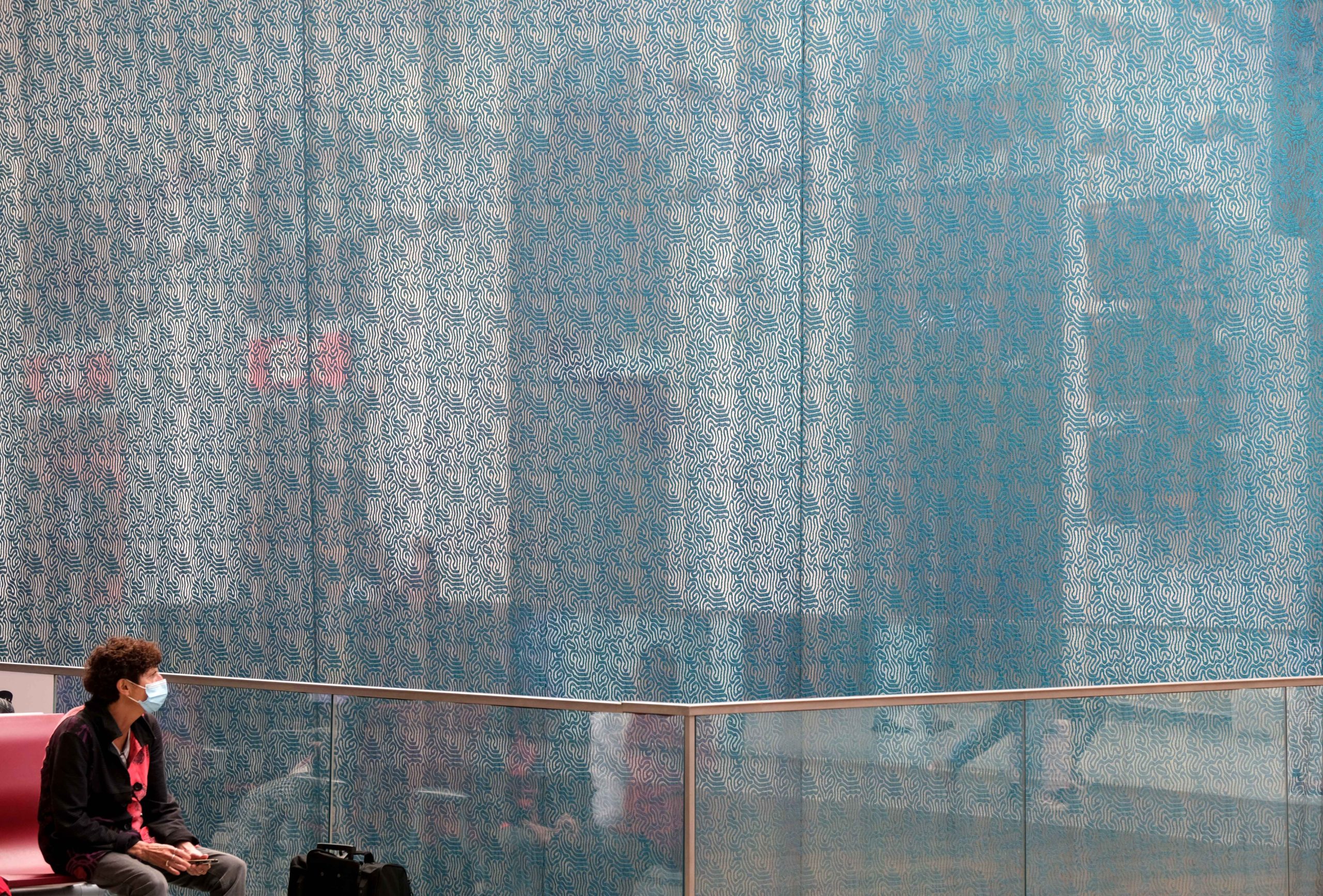 Education and awareness of environmental issues do not stop at the walls of the school, some public places have also been invested. For example, the Saint-Lazare train station in Paris, where stands Coalition, an imposing work made of lace and covered with a particular type of veil. This one is indeed able to depollute the air, and required two years of development; it is at the same time a tribute to the know-how and the tradition of the French textile craft industry and the illustration of the link between traditional expertise and innovation. 
It is also a way to raise public awareness of the disappearance of the coral "Neptune's Brain", whose characteristic vermiculated pattern is repeated in this work, but also in many Parisian monuments, such as the Louvre, symbolizing the circulation of life that the artist deploys in his work. For this is what motivates Jérémy Gobé, behind Corail Artefact: bringing life into art.