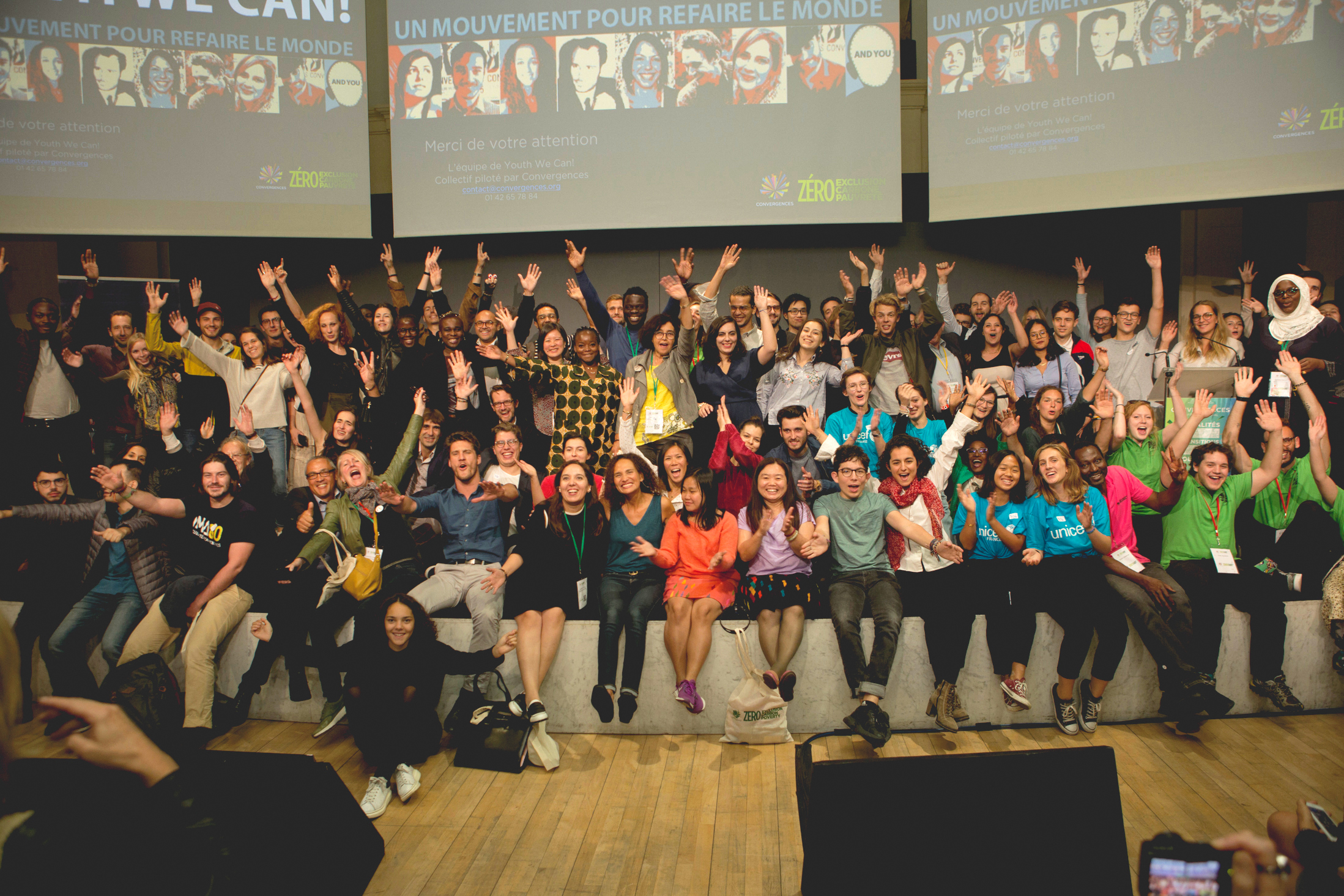 On September 6th, the Youth We Can! initiative held its annual event as part of the 12th Convergences World Forum in Paris. Young people and adults gathered at the Grand Auditorium of the Palais Brongniart to discuss youth engagement for climate. A look back at this emotional evening, animated by journalist Annabelle Baudin.
A workshop to share and identify solutions
In the first part of the evening, the "Apéro Géant" co-organised with makesense allowed participants to exchange ideas and good habits on subjects surrounding climate. Waste, energy, engagement and sustainable consumption were at the heart of this workshop which inspired many. Attendees gathered in small groups and together, they discussed about climate and shares ideas and solutions that one can use in his daily life.
Hundreds of solutions emerged from this workshop, such as:
#Civism: develop intergenerational communication, favour engagement in associations, try to talk about climate change and its stakes to our acquaintances.
#Transportation: encourage carpool, reduce the use of planes.
#Eating habits: reduce meat consumption, eat local and seasonal, install an anti-waste app.
#Waste: buy bulk goods, favour used goods instead of new ones, develop recycling bins.
#Energy: save as much water as possible and try to plant trees, fruits and vegetables in containers.
Want to know more? Click here to discover all the solutions listed from the workshop.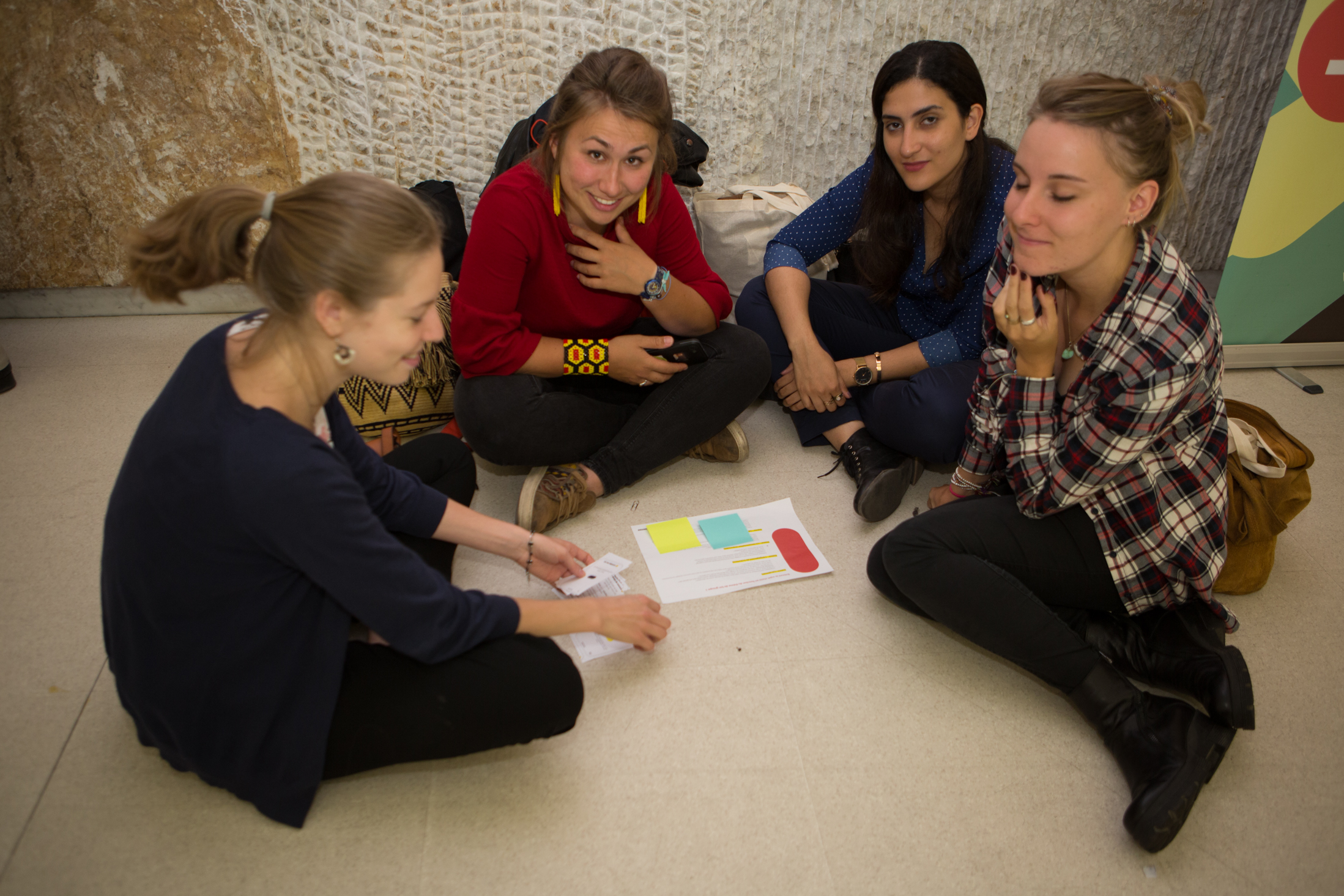 Inspiring testimonies of young people engaged for their planet
Afterwards, young people committed to fighting climate change took the Youth We Can! stage to share their own experiences. Activists, entrepreneurs, journalists: in France and in the world, they make tommorow's world!
At only 17, Léa François is a good example of youth's committment for climate. As a Belgian activist from Youth For Climate, a movement of high-schoolers and students fighting climate change, she took the mic several times while demonstrating. Doing so, she really embodies millions of young people who, just like her, are deeply preoccupied by our planet's state and wish to act for it.
Among these young people were entrepreneurs such as Edoardo Bertin, Marketing and Partnerships Manager at ClimateSeed,a social business supporting other organisations in their social impact actions. A graduate from ESCP Europe, he is interested to energies and developed a project aiming to preserve them. Julia Naw, founder of the sustainable fashion brand Youn Sone, is also putting the planet at the very core of her professional career. Born in Myanmar, she makes traditional  – and yet modern – clothes with sustainable fabric. Sarah Toumi, on the other hand, is committed to fight inequalities along with climate change. As the founder of Acacias for all in Tunisia, she fights desertification, poverty and gender-based inequalities. By the plantation of moringa – and edible plant -, her business allows the restoration of ecosystems and the creation of an economic activity for the locals.
This engagement for the planet is shared by Nicolas Kirilowits, journalist of cafébabel. As a media conceived by young people and for them, cafébabel publishes articles on european news that are traducted in five languages. The journalist told his professional career and especially how he decided to quit his job and go freelance to be in accordance with his values. Julien Vidal, is also a man who lives in accordance with his own values. Creator of the Ça commence par moi challenge which consists in taking one action each day to fight climate change, Julia Vidal showed how each and everyone of us can act for climate because lots of different things can be done to reduce our impact on the environment.
The exceptional participation of Yann Arthus-Bertrand and Frédérique Bedos

Then, the public assisted to an extraordinary address given by Yann Arthus-Bertrand, that finished with the broadcast of a teaser of his new film "Woman," premiering on March 8, 2020. Chairman of the GoodPlanet Foundation, Yann Arthus-Bertrand is also a photographer and a well-known film director who has always celebrated our planet's fauna and flora. He shared his own feelings on the climate crisis that has been making recent headlines. According to Mr Arthus-Bertrand, we do not need hope, but rather courage to make an impact and combat climate change. Courage is needed for us to reduce our level of comfort and reduce our consumption of meat and plastic. He also shared his great admiration for the young Greta Thunberg who, at just 16 years old, steps up and challenges adults to act for climate. Yann Arthus-Bertrand then expressed his trust in today's youth and his hope that we all change our individual and collective habits in order to fight climate change.
And then came Frédérique Bedos' turn to take the mic. The founder of the NGO Le Projet Imagine spoke about her personal life in a very emotional speech about compassion and courage. She shared photos of her childhood and anecdotes about her family. From story to story, Bedos explained how her parents adopted more than 20 children and how they inspired her to create her NGO, based on the values of loving and sharing. Lastly, she finished her address with a sentence that alone sums up her entire speech: "Let's be crazy, let's love each other!".