Six months after the vote of the framework law on Social and Solidarity Economy by the Assembly of People's Representatives in Tunisia, it is time to take stock. Experts from all sectors have come together and co-constructed the first Convergences Convergences "SSE in action for a Zero Exclusion, Zero Carbon, Zero Poverty Tunisia"!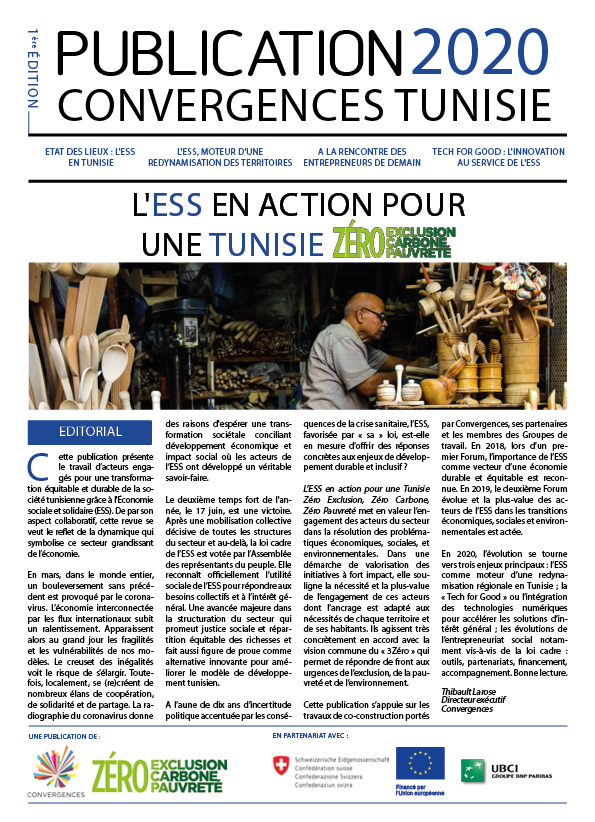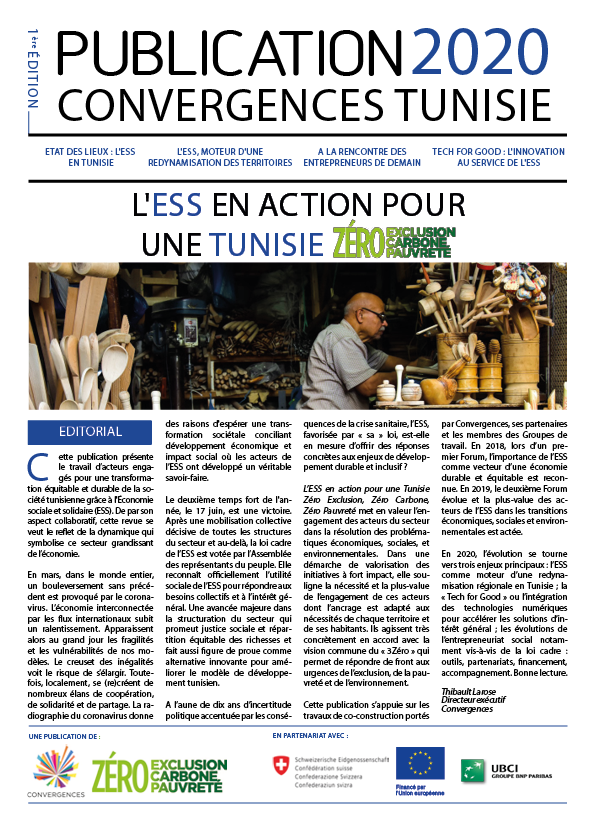 The publication provides an overview of the SSE sector in Tunisia, reviews the advances proposed by the framework law, the upheavals caused by the Covid-19 crisis, and presents exclusively the testimonies and feedback from project leaders with high social and environmental impact.
In a period of unprecedented crisis and faced with numerous difficulties, these actors of change have been able to bring solutions to help a population and an economy in difficulty, by combining social, environmental and economic impact. Discover these initiatives that have put solidarity, mutual aid and collaboration at the heart of tomorrow's world issues.
In addition to the results of the survey on the perception of SSE in Tunisia, discover today in the Publication the scope of the SSE law and the actors who are at the initiative and concrete solutions to reduce inequalities between regions. Meet social entrepreneurs on the front line during the Covid-19 period and go one step further by thinking about the challenges of Tech4Good, when technological innovation is put at the service of the common good.
HIGHLIGHTS OF OUR PREVIOUS TUNISIA FORUMS
2018 TUNISIA FORUM
The theme of our first Convergences Forum in Tunisia was "Towards a Zero Carbon, Zero Exclusion, Zero Poverty (3Zero) Tunisia".
2019 TUNISIA FORUM
For the second edition of the Convergences Tunisia Forum, the theme was "Social economy and Transitions in Tunisia".
For more information, please contact :