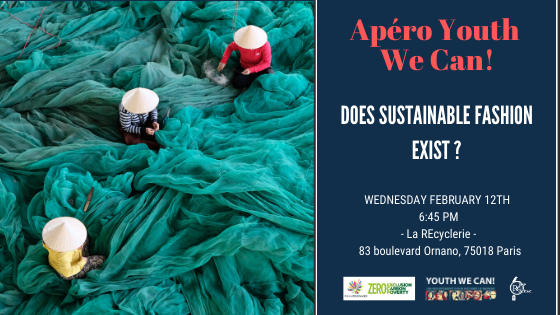 Does ethical fashion exist?
Every second Wednesday of the month, the Youth We Can! Afterworks create a space for young people to talk about their involvement in social and environmental matters. They tell us about their journey and share their vision of a more inclusive and responsible society. The goal? To encourage those who haven't found how to get involved yet and help them make the next step!
A French person on average produces 12 tons of CO2 on averagge per year. However, to achieve carbon neutrality, one should not exceed 1.2 to 2 tons of CO2 emitted per year and per inhabitant. Hence, Youth We Can! launched a new cycle of Afterworks, "Consumption in transition".
The theme of the first Afterwork of this cycle was sustainable fashion. Indeed, the textile industry accounts for 10% of global CO2 emissions, and 20% of global water pollution. It's an environmental and social disaster.
But does ethical fashion exist? What does it look like? What are the responsible means of production and distribution? How and why should we change our habits, and what responsibilities do we have as consumers? What are the levers for companies to produce more sustainably and achieve systemic change? To answer these questions, Julia Faure, co-founder of Loom, Mathilde Avenati, Chief Marketing Officer of Dresswing and Davy Dao, founder of Dao Denim were the guests of this new Afterwork Youth We Can! at the REcyclerie.
• Quality clothing for a more sustainable textile industry
This was the journey of Loom, the sustainable clothing brand co-founded by the first speaker, Julia Faure. After completing a degree at AgroParisTech and respectively, at ESSEC Business School, Julia and her co-founder Guillaume saw a business opportunity in quality clothing. Despite the demand for high-quality clothes, the supply was not there.
Indeed, when looking for quality textiles suppliers in order to start manufacturing Loom collections, Julia realizes that fashion brands usually require novelty, aesthetics, low prices … but not quality! It was then that they began to look into the subject of sustainable fashion and realized the impact of "fast fashion" and the overconsumption of clothes: oceans of waste and monumental amounts of greenhouse gas emissions.
For Julia and Guillaume, the real heart of the problem is the volumes of production. It is time to change our consumption methods. What does this mean for their brand? Loom does not want to encourage consumption, so they do not do sales and promotion for example; They create ietms that will last so as not to create a perpetual need for new clothes; and they give advice to their customers to better maintain them.
As Loom develops, Julia continues to learn about the impact of the textile industry on air pollution, water quality and biodiversity and develops her brand consequently:  organic cotton is used to avoid pesticides which destroy biodiversity (especially insects); meticulous attention is paid to obtaining supplies only in countries where the labor code adequately protects its employees; etc.
Julia Faure and Guillaume Declair, the founders of Loom. © https://www.loom.fr/pages/notre-histoire
Julia's advice to consumers? To avoid greenwashing, check that the brand you are buying from is not selling products with the purpose of infinite growth. The key is to change our dynamics of success: that is, not to consider acquisition and possession as a goal or a path to find happiness.
• Exchanging rather than owning: Enjoying fashion while reducing its harmful effects
Mathilde Avenati came to wonder whether we really needed to own all our clothes. For a few years, she worked for a pharmaceutical advertising agency. Then, she was not getting a sense of meaningful accomplishment, so her escape was to raid big fast fashion brands quite regularly.
After resigning her job, she searches for a project that makes sense and fits her completely. She also reduces her consumption, realizes the amount of clothes she owns, and questions the model of the fashion industry. After some research, she learns that compulsive shopping makes us happy only 15 minutes on average and that only 20% of our wardrobe is actually used.
She then decides to join the project of Delphina Tomaszewska, Dresswing, where she becomes Chief Marketing Officer.
The idea of ​​Dresswing is that rather than owning everything you want to wear, it is interesting to exchange your clothes through a rental platform, and therefore give them an infinite number of lives. The goal is not to banish the "new" but to slow down the rate of production and consumption.
Rental is available for 4 to 8 days for approximately 5% of the initial selling price of the product. Customer loyalty happened naturally: after trying clothes rental, people realize that renting is enough and habits evolve!
Mathilde's advice to consumers and young people is to think about the effects of one's professional activity and consumption in all areas – environmental, social and societal. Finding a project in alignment with one's values ​​allows them to align and be always motivated.
For her, Dresswing reconciles a taste for fashion and a desire not to harm the environment or society.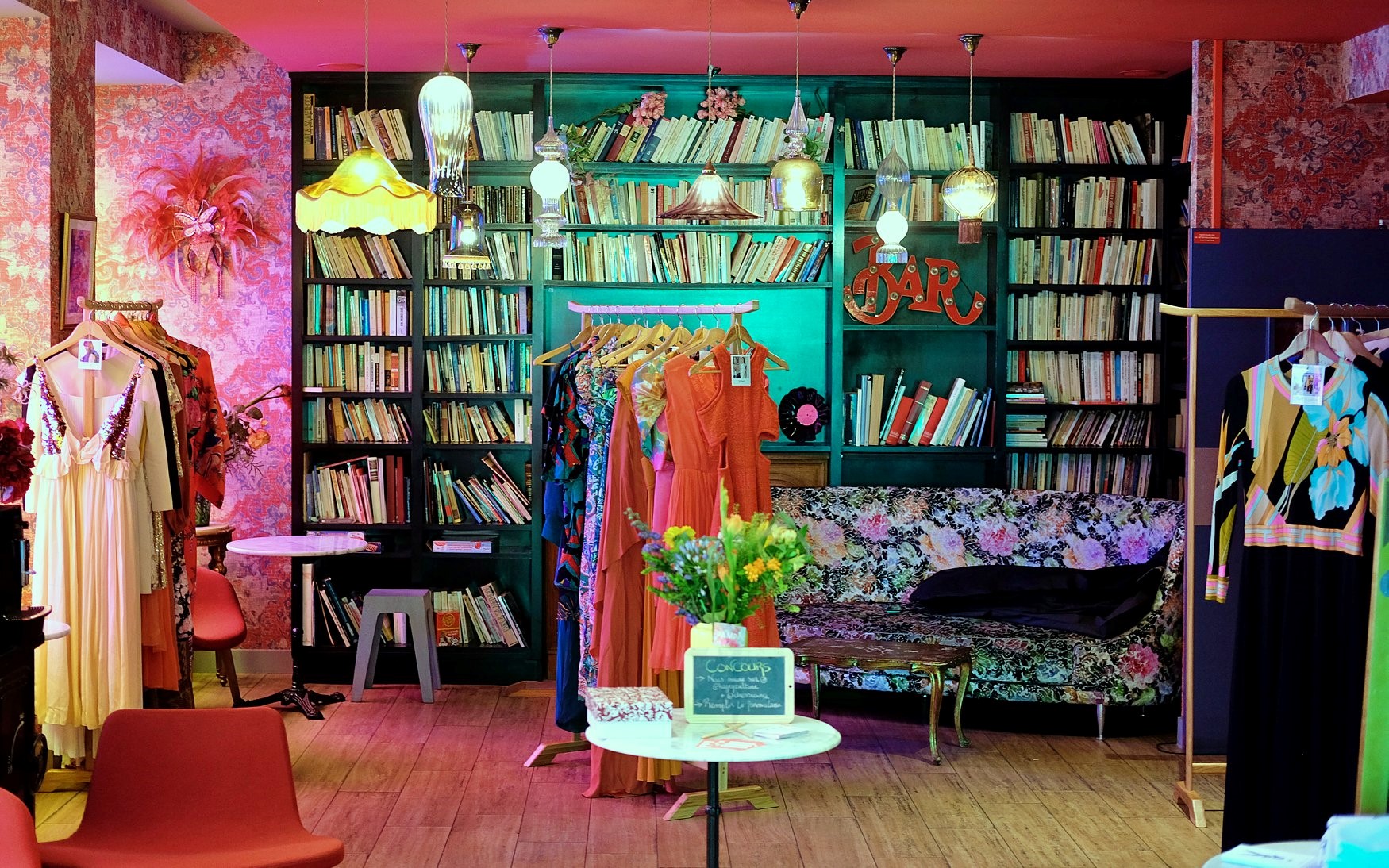 Evening organized by Dresswing in 2019 with its customers wardrobes. © https://www.facebook.com/dresswing/photos/ 
• The story of a passion for jeans: how to make them sustainable?
A taste for fashion and reducing the industry's ecological and social impact is also the choice that Davy Dao made in his professional life.
At first, Davy's interest for clothes came from a need. Coming from a large family with limited means, he had to patch up his own clothes to avoid his classmates' mockery. He began to repair and personalize his jeans and those of his friends with his mother's sewing machine, and to take great pleasure in it.
After high school he chose to follow a career in fashion, despite his parents' desire for a more "serious" career. He worked for several years for major brands of jeans and, with his first salary, he deposited the name of his brand: DAO DAVY.
After a few years working in sales, he made a yearlong trip to Vietnam, his parents' country of origin, to discover his roots and the other end of the textile production chain. What he sees there is rather negative. In the workshop in which he works, he witnesses the consequences of "fast fashion": child labor, poorly paid staff and in dangerous working conditions; water and air pollution, etc.
Upon his return to France, he created his jeans workshop. He returned to Nancy and got started in a studio with four sewing machines using quality fabrics from Spain and Japan.
Davy Dao in his studio in 2013. © https://daodavy.com/dao-grandit/
After a while, he realises that France is the biggest producer of linen in the world and decides use it as an opportunity to make his jeans even more ethical. With the help of funds raised through crowdfunding, he succeeded in convincing manufacturers to start weaving French linen and makes his brand bigger. Dao Denim then became the first clothing brand 100% made in France.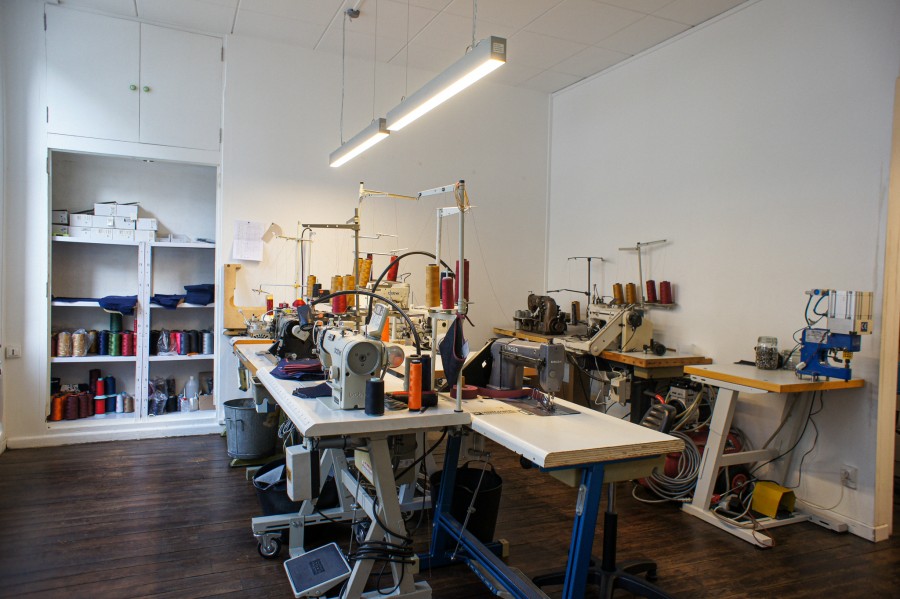 Dao Denim's workshop in Nancy in 2019. © https://daodavy.com/dao-grandit/
If his project should expand, he would like it to be done in a context of regionalization of production and distribution, valorizing the local know-how for a short circuit fashion industry!
Through his career, Davy noticed that many people seek to invest in projects launched by motivated young people, as some did for him, so we must take advantage of it!