Convergences Myanmar Forum
March 10 | Rose Garden Hotel, Yangon, Myanmar
For the first time since its creation, Convergences is going abroad with a Forum organised in Yangon, Myanmar on March, 10th 2017!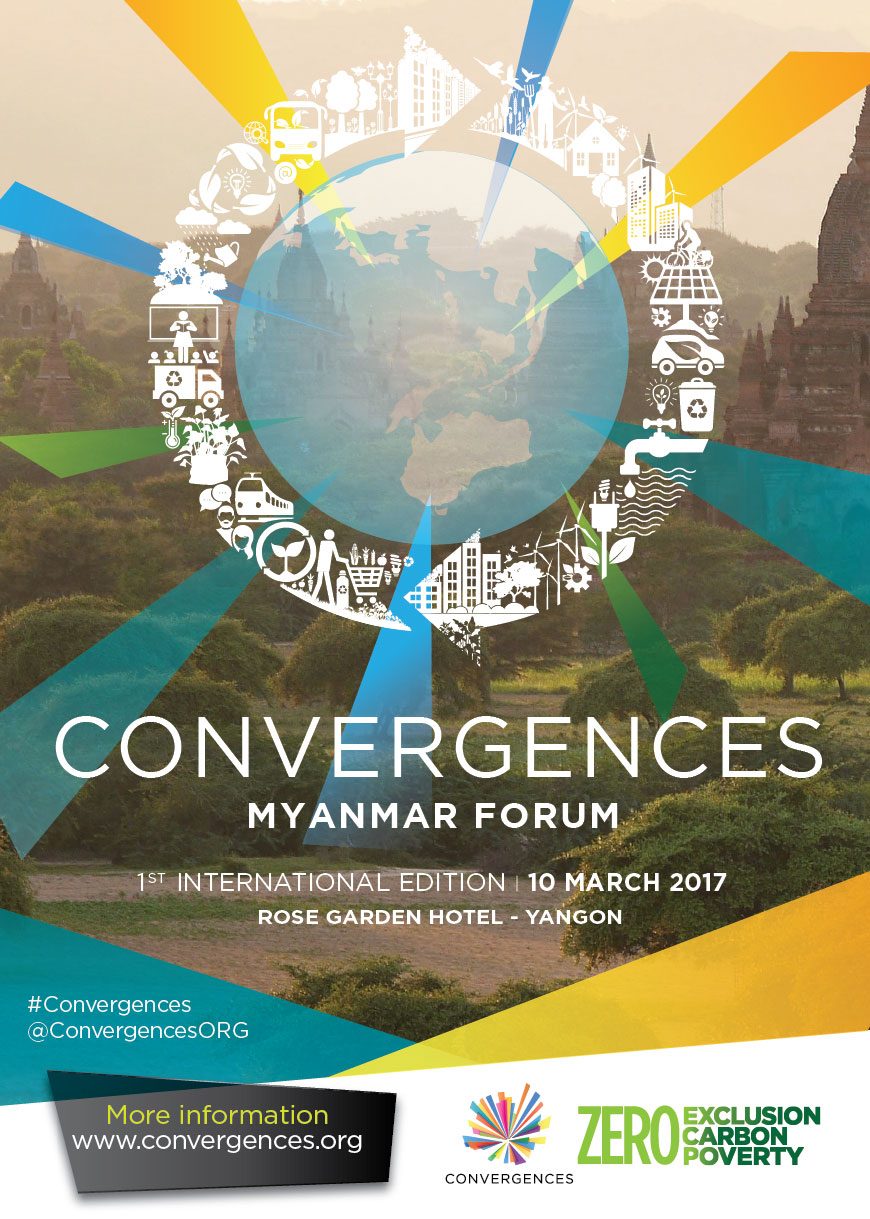 In September 2016, the French Embassy to Myanmar actively participated in the 9th edition of the Convergences World Forum in Paris, where it co-organised a session on "The transition in Myanmar: Emerging new actors". Mr. Olivier Richard, French Ambassador to Myanmar participated in this session, which was moderated by Charles Bonhomme, Head of the French Institute in Yangon. Along with them, spoke :
Khin Maung Lwin, Former Director, Ministry of Health in Myanmar
Soe Myint, President, Myanmar Journalism Institute & Founder and chief-editor, Mizzima Media
Wai Wai Nu, Director, Women Peace Network Arakan
Ken Tun, CEO, Parami Group
The Burmese delegation coming to Paris was very enthusiastic about the Forum, and wished to organize a similar event in Myanmar. As a result, Convergences started working on organising this Myanmar Forum with the support of the French Ministry of Foreign Affairs and the French Embassy to Myanmar.
WHAT WAS THE CONVERGENCES MYANMAR FORUM LIKE ?
March 2017 at the Rose Garden Hotel in Yangon
professional actors representing the private, public, civil society, international development, academic and media sectors
workshops oriented towards the definition of concrete and mutli-actor solutions to address the challenges of each topic
presentation of a concrete example (in Myanmar or in the South East Asian region)
panel debate
exchanges with the audience
Definition of a solution in the Myanmar context
Workshop 1: Urban planning and sustainable city
Workshop 2: Financial Inclusion
Workshop 3: Cooperation for sustainable development
Workshop 4: Data for development
Plenary session 5: Access to employment
 CROSS-CUTTING DEVELOPMENT ISSUES
Multi-actor cooperation
Citizens' involvement and consultation
Gender equality
Access to employment
Combining economic and sustainable development
Barriers faced by development actors