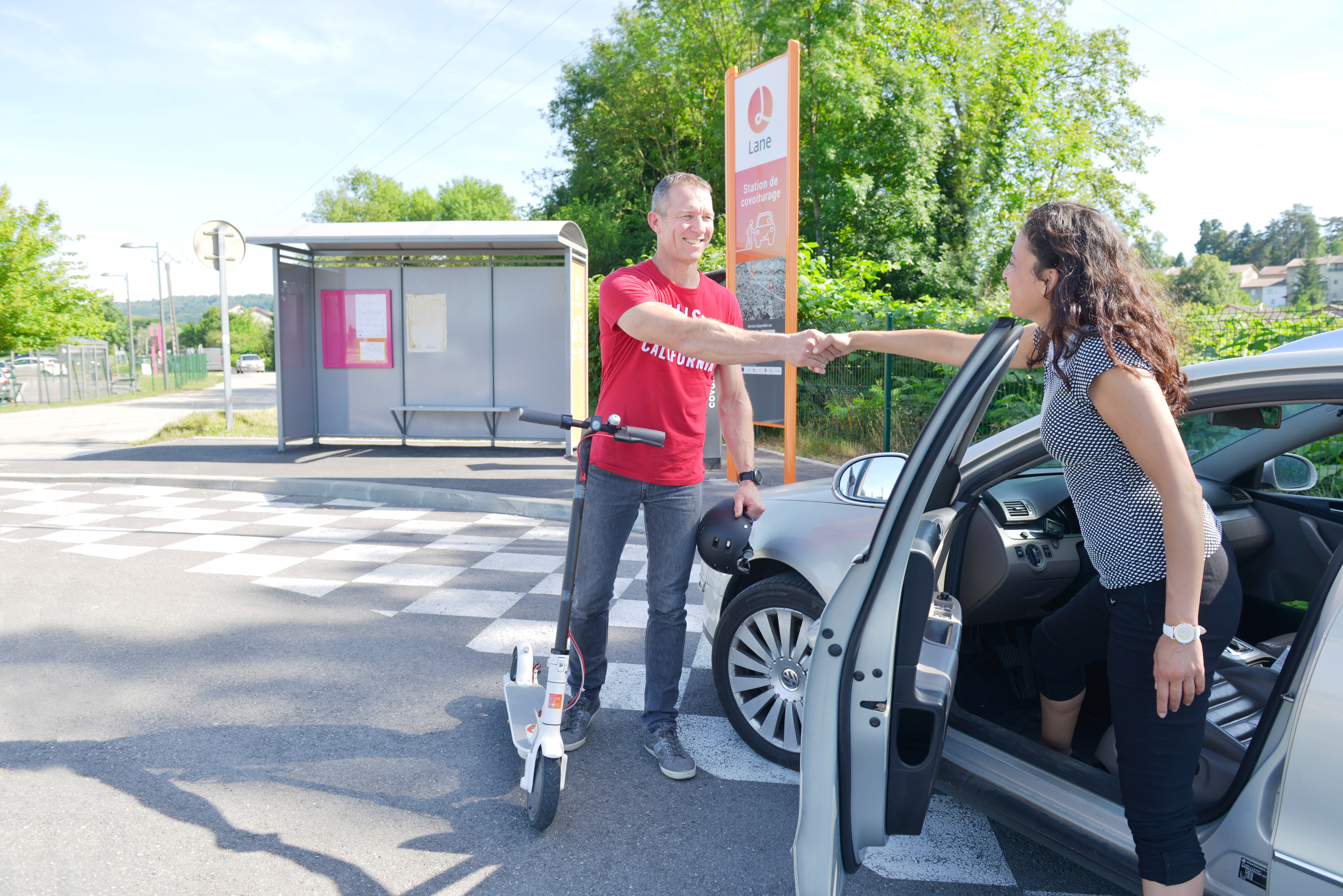 Ecov was created in 2014 to respond to a challenge that no public or private player can meet on its own today: dependence on individual cars in peri-urban and rural areas.
A few figures are enough to realise the scale of the problem: today, road transport accounts for 29.7% of greenhouse gas emissions in France1, as well as 80% of air pollution, itself responsible for 48,000 deaths every year2. Cars account for 80% to 85% of journeys in peri-urban and rural areas and the average occupancy rate for everyday journeys is 1.3 people3.
These data demonstrate the importance of reinventing daily travel patterns. In this context, Ecov's ambition is to generalise the use of carpooling. Behind this objective, several forms of benefits inherent to the ecological and solidarity transition are sought: reduction of greenhouse gas emissions, improvement of air quality, access to mobility for all, reduction of the share of transport in household budgets, and creation of social links.
To carry out this mission, Ecov focuses its action on sparsely populated areas (peri-urban and rural areas), i.e. areas where public transport does not exist or does not offer a service that meets the needs of citizens.
"Carpool like you take the bus"
In these territories, private cars are often the only means of transport for everyday journeys. So, far from demonising this use, Ecov proposes to rethink it to move from individual car use to collective use. The idea is to create a new public transport, a new public service, developed in partnership with local authorities and co-constructed with citizens.
The concept is simple. Once a community has identified a mobility need or problem – congested traffic, opening up of residential or employment areas, people with mobility problems, etc. – it can take a number of steps to improve the mobility of its citizens. Ecov identifies the traffic routes for which a carpooling line would be relevant, at given hours or all day long.
Subsequently, points of interest on a defined axis are highlighted: an employment area, a relay car park, or a ski resort. It is in these places that car-sharing stops will be materialised using street furnitures.
How does the service work?
A passenger wishing to travel goes to the nearest carpool stop. There, he or she provides information about his or her destination by text message, mobile application or telephone assistance. This is displayed on a light panel located upstream of the carpool stop. A few minutes later, a driver going in the same direction sees the request on the panel or on his mobile application, stops to pick up the passenger and drops him off at the desired stop.
In order to ensure that this service is attractive to all, costs are shared between passengers and drivers, the price of the service being set by local authorities, who guarantee the affordability of the service. Still with a view to accessibility, and because a public service must be usable by everyone, Ecov offers a mixed solution, which includes digital media (mobile application, website) but also physical media (light panels, street furniture) to address both the 39% of French people who use their smartphone4 to get around and those who do not.
Reinventing the way towards sustainable mobility
On a daily basis, the Ecov team deploys this new public service hand in hand with elected officials and technical departments of local authorities, with the same motivation on both sides: the general interest. The project is being co-constructed during the study phase, with Ecov bringing its expertise in carpooling and the elected officials and technical services of local authorities providing their knowledge of the area. Then, throughout the operation of the lines, the service is monitored in order to adapt the animation strategy, modulate financial incentives, develop solutions for the last miles service, or even to move a stop from its initial location.
These structuring projects may involve adapting existing road infrastructures to enable a massive adoption of carpooling on a daily basis: installation of physical stops, creation of dedicated carpool lanes, dedicated car parks, etc. Just like conventional public transport.
Challenges still lie ahead…
To sustainably reinvent the way we use cars and roads, many challenges must be met. One thing is certain, meeting them will require better collaboration between the private sector (associations, companies) and the public sector (communities) to effectively address the issues of ecological and solidarity transition.
Julie Laurent
Corporate communication officier
&
Harald Condé Piquer
Head of development
Ecov
Footnotes
1. Source CITEPA, avril 2019
2. Source ADEME, novembre 2019
3. Source ADEME, Etude nationale sur le covoiturage de courte distance, septembre 2015
4. Source KEOLIS – Netexplo, octobre 2016