Thirty years ago, when setting up the Association for the Right to Economic Initiative (ADIE) in France, Maria Nowak introduced in Europe an innovation that had already been successfully developed in Bangladesh by Professor Yunus: microcredit. ADIE's goal is to grant a genuine right to people whom the laws of the market or personal misfortune prevent from developing their projects or creating their businesses due to a lack of access to conventional bank credit. Implementing this right requires the granting of tailored loans, with personalised support to project leaders.
This initiative quickly spread throughout Europe, in shapes and forms adjusted to the specific context of each country. The Microfinance Centre (MFC) was created in Warsaw in 1999, followed by the European Microfinance Network (EMN) in 2003. There are now some 450 microfinance institutions in Europe. According to the latest survey carried out by EMN and MFC, there were nearly one million active borrowers in 2017, for a total outstanding amount of €3.2 billion.
The number of microcredit beneficiaries and outstanding loans are increasing steadily. However, this growth may still be considered too slow given the microcredit "market"'s potential, as estimated by the EMN/MFC study (two million borrowers, representing a potential annual demand of €17 billion). Unfortunately, in most countries, such development potential reveals the ongoing difficulties that many people encounter in accessing bank credit to set up or develop their micro-enterprise; to the worsening of inequalities and social, regional and digital divisions; and to the development of a social model that favours integration via wage labour rather than self-employment and entrepreneurship.
Experience in Europe over the last 30 years shows that the development of self-employment and micro-enterprises, with the combined support of microcredit and assistance to project leaders, makes it possible to transform vulnerable people into wealth creators. Likewise, it can reduce poverty and social divides, while contributing to the achievement of the Sustainable Development Goals. It has also shown microcredit institutions' long-term economic viability.
European institutions have understood and supported the development of microcredit across the continent, particularly with the creation of the EU Programme for Employment and Social Innovation (EaSI) in 2014. As part of this programme, the European Commission has provided a guarantee instrument with a budget of approximately €300 million for the 2014-2020 period. Its aim is to improve access to financing for social enterprises, micro-enterprises and vulnerable groups. The Commission has also used this programme to set up a grant instrument with a budget of €16 million over the same period of time to strengthen the institutional capacities of microcredit and social financing providers.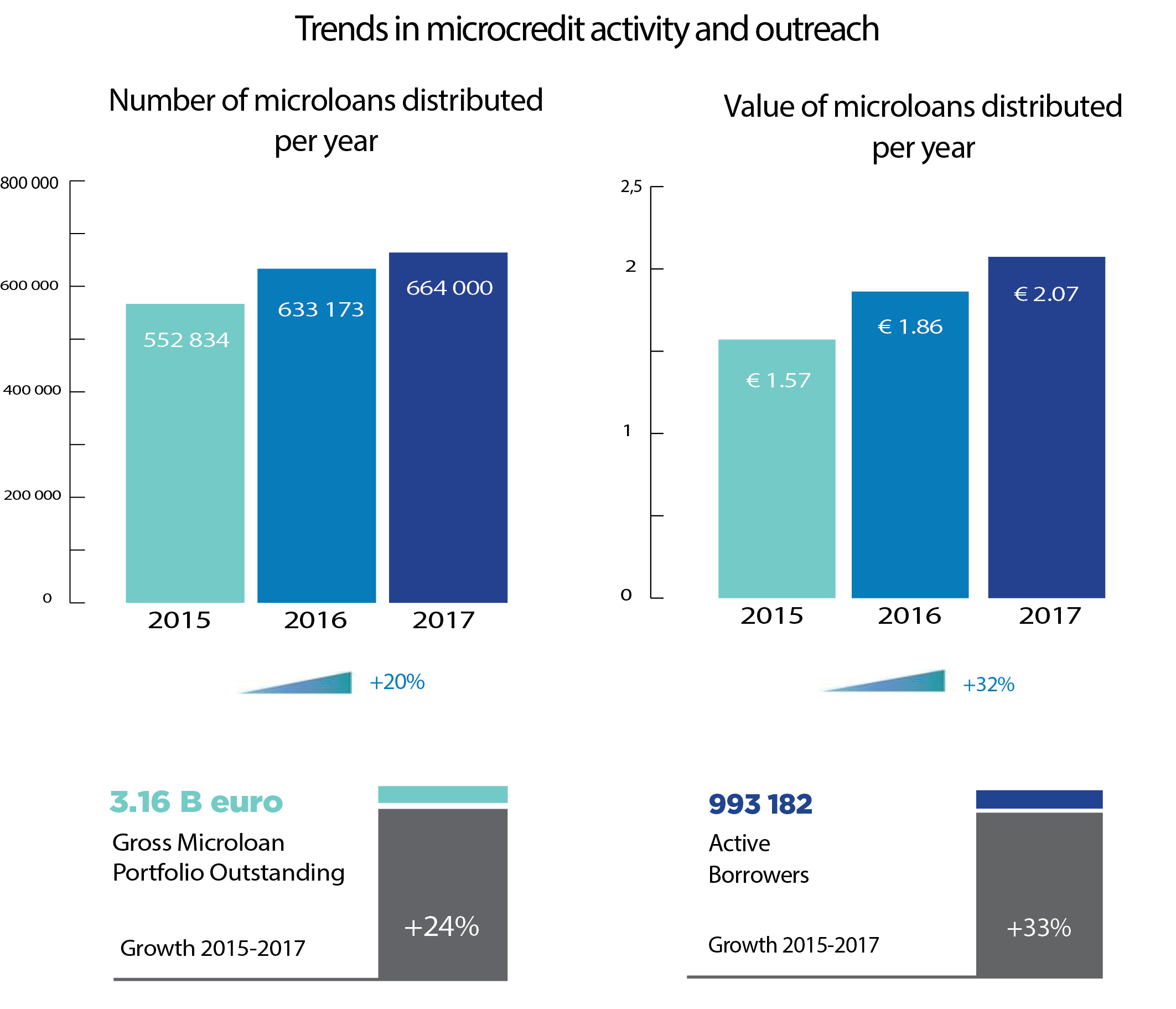 A new European Parliament has just been elected and a new Commission is being set up. At the same time, the Yellow Vests movement in France has shown the depth of social divides and the feelings of abandonment currently experienced by many of our fellow citizens. It is therefore a particularly opportune moment to recall the social impact and economic efficiency of microcredit, and to put proposals forward to remove obstacles or barriers to its development.
This is the goal of the Working Group chaired by Maria Nowak under the umbrella of Paris Europlace. This Working Group, made of experts from ADIE and French banking groups, as well as representatives from Banque de France and the European Microfinance Network, has drawn up a White Paper on Microcredit in France and in Europe1. This White Paper reviews the current state of microcredit and analyses the factors that led to the development of microcredit in France. It also gives an overview of studies demonstrating the economic and social utility of microcredit, and sets out proposals to encourage accelerated microcredit development both in France and in the European Union.
Microcredit's social and economic utility owes everything to microcredit institutions' stated desire to make it their primary business purpose; to translate it into their policies, internal procedures and products and services; and to periodically gauge the real-world impact of their actions using recognised methods for measuring social impact. Social performance, social impact and long-term economic equilibrium are the three pillars of what could be called the "European model" for microcredit institutions.
It is up to each of us to develop it for a more inclusive and dynamic Europe.
1 The White Paper is available on the Paris Europlace website: https://www.paris-europlace.com/fr/publications
JEAN-LUC PERRON
VICE-CHAIRMAN
CONVERGENCES &
VICE-CHAIRMAN
YUNUS CENTER PARIS