Future generations are never legally represented. And for good reason: they do not exist yet! With the Future Generations Tribunal, an event designed by Usbek & Rica, future generations are finally becoming subject of law. It is with this alternative space-time, which takes up the codes of the conference while affixing the scenography of a trial – an original and quirky format that enables the audience to grasp issues linked to a major problem of the future – that the 11th Convergences World Forum opened.
With its provocative title "Is official development aid a scam?" the Future Generations Tribunal echoes very well with recent news on the matter. France, through its Minister of Europe and Foreign Affairs Jean-Yves le Drian, confirmed on Monday 3 September 2018 that its Official Development Assistance (ODA) will increase by nearly €1 billion next year, with the aim of reaching 0.55% of GDP (or €6 billion more) by 2022.
In this context, the Tribunal for Future Generations addressed with transparency the following issues, and many others:
Are the means implemented to promote the development of developing countries (DCs) sufficient and appropriate? Can we talk about "non-assistance / failure to provide assistance to countries in danger"?
ODA is the only official aid fund and is essential for the development of public services in beneficiary countries. Removing it would mean giving up aid to the entire discretion of private donors. As for public donors, they would no longer have to pay! Without ODA, we would set up a market logic, competition between countries, and increase the risk of debt. It is an essential system for providing public services where resources are not sufficient
The functioning of the "Agence française de développement" (AFD – French Development Agency), both an agency and a bank, is financed by the proceeds of its activity, while the actual content of the projects is financed by the taxpayer. This is public money. This implies rigorous justification and control of the sums committed
When aid fails, for example when funding Libyan coastguards to contain the influx of exiles, we change direction and report back. Do multinationals change their attitude when a scandal splashes them?
Is it justified to accuse Official Development Assistance (ODA) of serving the interests of donors first?
Yes, ODA is the marker of a foreign policy and yes, there is an interest from donor countries. However, it is also in the interest of these donor countries that the world gets better. When one country helps another, it is a question of solidarity, influence and responsibility… ODA is an old concept, certainly, and one that deserves to be modernized. But above all, it is a vector, a leverage effect that will make it possible to guide public policies and mobilize the private sector that will subsequently invest
Is there a proven link between ODA and corruption in developing countries?
Corruption does not only affect governments, it covers a wide range of realities and should not be used as an argument for not cooperating at all
Finally, does this mechanism hinder the emergence of new actors for development?
This assistance should be negotiated between governments, the private sector and civil society
Verdict at the end of the debates
While it can be underlined that this aid is not perfect, ODA is not a scam but a tool that can be improved considerably, particularly in terms of measuring results and dialogue with local civil societies.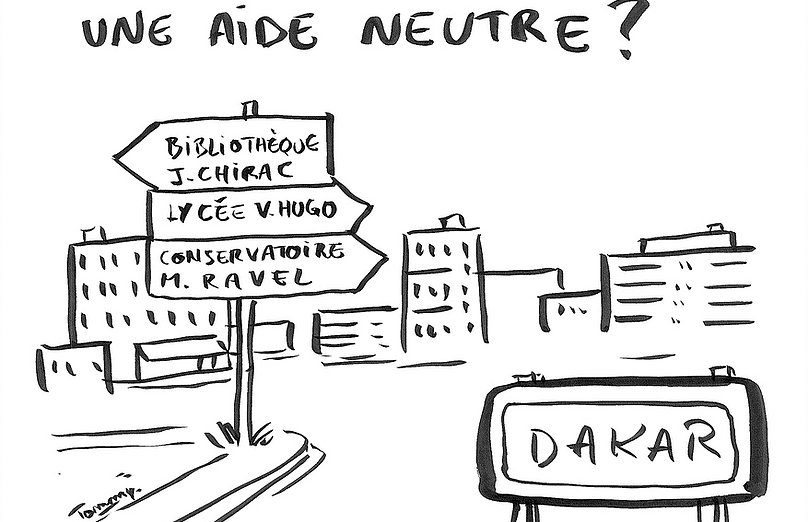 Vincent Edin, Journaliste
Yves Guicquéro, Agence Française de Développement (AFD)
Thierry Keller, Usbek & Rica
Vivian Onano, Water Aid & UN Women Civil Society Advisory Group
Rosalie Salaün, Groupe des élus écologistes
Esther Schneider, Institut de Relations Internationales et Stratégiques (IRIS)
Tommy, Dessinateur