Every second Wednesday of the month, the Youth We Can! Afterworks create a space for young people to talk about their involvement in social and environmental matters. They tell us about their journey and share their vision of a more inclusive and responsible society. The goal? To encourage those who haven't found how to get involved yet and help them make the next step!
For the first Afterwork of the year 2020, Youth We Can! met its community at the Pavillon des Canaux to talk about how to use art and culture to fight the climate crisis. How do young artists approach Global Warming? How do they use art to raise awareness about the environment? How can we make the cultural industry more sustainable? To answer those questions, Julie Nahon, graphic designer and illustrator, Morgane Baudin, co-founder of Pixetic, and Adeline Pilon, General Delegate of the Elyx Foundation, were the guest speakers at the first Youth We Can! Afterwork of the year.
Raising awareness by transforming famous works of art
That's what Julie Nahon does, as an activist illustrator. Her degree in graphic design got her interested in ecology despite her original plan of working in the luxury goods industry. She then found a new passion in digital painting. Quickly, her paintings started to reflect what she thought of contemporary societal matters. For instance, she painted a still life of fruit and vegetable wrapped in plastic.
With a contest launched by Mr. Mondialisation, Julie started to transform existing famous paintings to hijack their meaning into her perception of the contemporary issues she cares about. Her transformation of the famous "Glaneuses" (Gleaners) from Millet won the contest and attracted a lot of attention. She then realized the impact this political art form can have. Using famous art references under a contemporary angle, the picture triggered a lot of reaction; particularly anger at the sight of the visible impact of non-biodegradable waste and pollution of natural spaces. It inspired people to share their thoughts on the topic; her former teachers even asked her to share her own analysis of the painting in order to use it with their students.
Today, Julie exhibits her painting at the Cultural Center of Belem (Lisbon) for the 5th Triennale of Architecture in the context of The Poetics of Reason exhibit: a significant show of support for choosing to create politically committed art!
Images have the power to change mindsets.
At least it is what Morgane Baudin believes! As a young Sciences Po graduate, she wanted to work in the cinema and audiovisual media at the end of her degree. But she quickly became aware of the polluting aspects of the industry.
After considering changing career paths, Morgane realized that cinema and audiovisual media have a tremendous influence on people's mindsets and if it is used well, they can contribute to the preservation of the environment. Thinking about the impact her job and her industry could have on nature and society but also on people's minds, she found out that one can act against climate change from any professional sector.
Based on that reflection, she decided to create Pixetik, a social economy company, which develops sustainable product placement offer. What is product placement?
It consists in promoting products, brands or messages by introducing them into audiovisual content in order to put them in the public eye. It allows brands to gain visibility and film producers to get more funding. Pixetik offers to introduce sustainable goods and actions in films, series and other audiovisual contents to influence the choice of consumers towards the most sustainable options.
With Pixetik Morgane has two goals. First she reaches out to a lot of audiovisual production firms and people working in the cinema industry to talk about sustainable brand or product placement. By doing so, she hopes to inspire a whole community of actors to make their industry take the climate crisis into account in their work. On top of that, thanks to product placement in audiovisual contents which are already popular, she hopes to get to as many consumers as possible and influence their consumption choices to put an end to our damaging daily habits as soon as possible.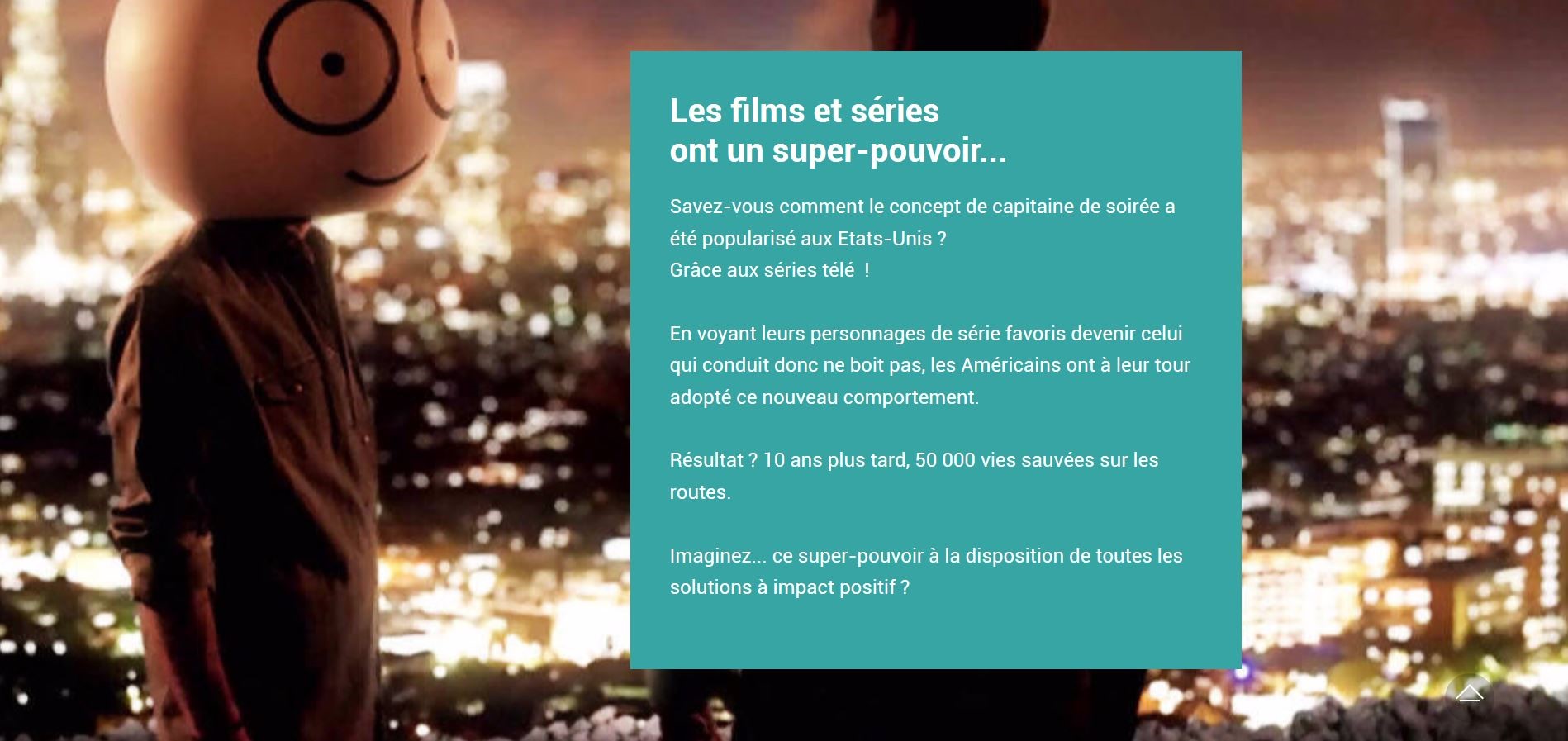 From finance to culture and environmental protection
Adeline Pilon went through hesitations about her career too. Coming from a working class neighborhood, she made it to the top in the financial sector and worked for commercial banks. With a passion for art, she is used to find refuge in museums to think and get inspired. She always hated the fact that culture is restricted to an élite and seems inaccessible to those who do not belong to the privileged categories of the population.
As a result, she founded HAPPENING, a platform using both her financial skills and her passion for culture, which combines artificial intelligence and the knowledge from the best specialists to make the art market more transparent and easier to understand. But her initiative didn't allow her to demystify the art world as much as she would have liked to for those who need it most. She let go of the project as her awareness of the environmental crisis was growing.
Adeline then met the artist Yacine Aït-Kaci. He had created Elyx, the character who became the digital ambassador on the Sustainable Development Goals (SDGs). Together, they decided to create the Elyx Foundation to connect culture and ecology, and to use art to raise awareness amongst as many people as possible. They are now working on two fronts: they want to support or encourage artists to  address environmental issues with their art; and they organize awareness campaigns about the Sustainable Development Goals using existing works of art.