2012 Edition

The Convergences World Forum 2012 took place in Paris on 19, 20 and 21 November. With over 4,000 professionals and 300 speakers, the World Forum brought together key actors from the public, private and solidarity-based sectors committed to the fight against poverty, as well as over 1,000 youth involved in the movement "Youth We Can", and 200 journalists who attended the evening event "Can media change the world?".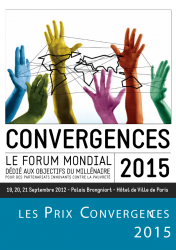 Over the 56 sessions, grouped into 17 thematic focuses, experts and decision-makers from the public, private and solidarity-based sectors shared experiences, exchanged their viewpoints, and conveyed strong messages.
The Forum 2013 was host to prestigious speakers such as Michel Barnier, Simon Compaoré, Antoine Frérot, Benoît Hamon, Anne Hidalgo, Martin Hirsch, Jeremy Hobbs, Nicolas Hulot, Alain Juppé, Stéphane Richard, Michel Rocard, Louis Schweitzer, François Villeroy de Galhau, and many more…
The Professional Marketplace offered over 50 stalls for the Forum's 5,000 participants. It brought together professionals from the private (Unilever France, KPMG, …), public (City of Paris, European Commission, …) and solidarity-based (Agence Française de Développement, Vision du monde, …) sectors.
The laureates of the 2nd Convergences 2015 Awards: Entreprendre pour Humaniser la Dépendance and Prakti Design
In partnership with the City of Paris, Le Monde, the European Commission and FACTS, the 2nd edition of the Convergences 2015 Awards gave the France Award to the projet « Vie Grande Ouverte » of Entreprendre pour Humaniser la Dépendance in partnership with Habitat et Humanisme and the Université Catholique de Lyon and the International Award was given to the social enterprise Prakti Design in partnership with Skillmech.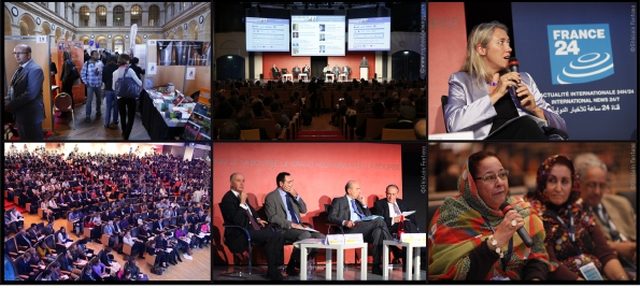 The World Forum Convergences 2012 Best Of video

Session's reports from 2012 edition
The role of actors

What Part Can Private Companies Play in Reducing Poverty in Developing Countires – Minutes – Forum C2015
How to Improve the Consistency of European Policies Towards Developing Countries – Minutes – Forum C2015
What are the Challenges Ahead for NGOs in an Evolving Development Sector – Minutes – Forum Convergences 2015
Strengthening local governance in developing countries, A key issue for sustainable local development – Minutes – Forum
What part can banks play to support the development of a more – Minutes – Forum
Can the Media Change the World – Minutes – Forum Convergences 2015
Convergences and partnerships

Local Governance in Developing Countries_What are the Challenges for Territories – Forum Convergences 2015
Quels partenariats pour plus d'impact en microfinance – Compte-rendu – Forum
How to increase the involvement of populations and the civil society in development project- Minutes – Forum
Ensuring good governance and sustainability for multi-actor – Minutes – Forum
People and Civil Society at the Forefront of Change – Minutes – Forum Convergences 2015
Innovation
Les TIC un nouvel outil au service des plus pauvres – Compte-rendu – Forum C2015
Social Innovation to Better Respond to People Needs – Minutes – Forum Convergences 2015
How can technical innovations support development. An example with agriculture – Minutes – Forum
What Stakes for the Internet in Sustainable and Inclusive Development – Forum Convergences 2015
Social entrepreneurship and social and solidarity economy

European Policy for Social Entrepreneurship and SSE – Minutes – Forum Convergences 2015
Social Entrepreneurship and SSE in a context of economic crisis – Minutes – Forum C2015
Best practices in microfinance

Une nouvelle crise de la microfinance est-elle possible – Compte-rendu – Forum
Réformer la microfinance à l'échelle mondiale – Forum C2015
Funding issues

Funding a solidarity-based Project_Matching Resources with Projects – Minutes – Forum Convergences 2015
L'impact investing, un mouvement mondial – Compte-rendu – Forum Convergences 2015
Quelles nouvelles tendances en philanthropie face aux nouveaux défis du monde
Public Funding Perspectives for SSE – Minutes – Forum Convergences 2015
Quelle performance et rentabilité du capital pour les investisseurs en microfinance
Projets de développement_quelles barrières pour accéder aux financements publics
Supporting entrepreneurs

Supporting Entrepreneurs_Sharing Best Practices – Minutes – Forum Convergences 2015
Legal and Tax Assistance for Social Ventures – Minutes – Forum Convergences 2015
Impact of microfinance

Comment améliorer l'impact social de la microfinance dans le monde – Forum C2015
Evaluating the Social Impact of Microfinance Worldwide – Minutes – Forum Convergences 2015
BoP strategies and social business

Providing Appropriate Solutions to the Needs of the Poorest in Developed Countries – Forum C2015
Creating Shared Value at the BoP_Challenges and Best Practices – Minutes – Forum Convergences 2015
Funding overview

Some examples of innovative funding tools – Minutes – Forum C2015
Tout savoir sur les financements traditionnels et innovants – Compte-rendu – Foum
Synergy Thinking on Innovative Economic and Hybrid Funding Models – Minutes – Forum C2015
International year of cooperatives

Can the Cooperative System be a Model – Minutes – Forum Convergences 2015
Cooperatives in Microfinance_Specificities and Assets – Minutes – Forum Convergences 2015
Grand debates

Opening Session of the 5th World Forum Convergences 2015 – Minutes
Poverty reduction in France_What lies ahead after the elections – Minutes – Forum Convergences 2015
3 Years to the Development Goals Deadline_Where do we Stand – Minutes – Forum Convergences 2015
Combining economic development and sustainable management of natural ressources – Minutes – Forum
Working for a Responsible Economy_Training and Careers – Minutes – Forum Convergences 2015
Convergences 2015 Awards Ceremony – Minutes – Forum Convergences 2015
Synergies between Public Private and Solidarity Actors to Achieve Sustainable Development – Forum C2015
Closing session of the 5th edition of he Convergences 2015 World Forum – Minutes
Urbanisation and poverty

The impact of urban development on poverty and the environment in developing countries – Minutes – Forum
Quelles solutions aux nouveaux défis sociaux et environnementaux en milieu urbain
Working for an inclusive economy

Human Resources Challenges for Solidarity Based Organisations – Minutes – Forum Convergences 2015
Impact evaluation

Impact Evaluation_Choosing the Right Methodology for Different Projects and Objectives – Forum C2015
From principles to practice, Implementing a social impact for a social enterprise – Minute -Forum
Food sovereignty

What are the Global Stakes of Food Soverreignty – Minutes – Forum Convergences 2015
How to Achieve Food Security at the Local Level – Minutes – Forum Convergences 2015
Environnement and development

Rio plus 20_Review and Outlook – Minutes – Forum Convergences 2015
World Water Forum, Review and outlook – Minutes – Forum
Energy transition and sustainable energy How to address energy – Minutes – Forum
2012 edition's storifies