Three years after the United Nations' call to combat poverty, inequality and climate change, which resulted in the adoption of the seventeen Sustainable Development Goals (SDGs), a first assessment of the advances made so far seems necessary to assess the efforts undertaken around the world to build a 3Zero world (zero exclusion, zero carbon, zero poverty).
To reflect this paradigm shift the Hunger Barometer became in 2016 the Sustainable Solutions Barometer. Born from the collective work of several associations and organizations, this barometer is a publication addressed to the general public, the media and political decision-makers. It aims to raise awareness of the need to mobilize all stakeholders to effectively promote the MDGs and promote solutions that respond to these issues.
The 2017 edition of the Sustainable Solutions Barometer chose innovation as the gateway to a more sustainable world. Beyond SDG 9, of which it is a part, innovation can be considered as a real catalysor that is inclusive and open to all areas of knowledge and expertise. To illustrate this process, the Sustainable Solutions Barometer presents original local initiatives, such as the creation of e-health applications (pp.4-5) or the establishment of social enterprises and partnerships in areas affected by inequality (pp.9-12).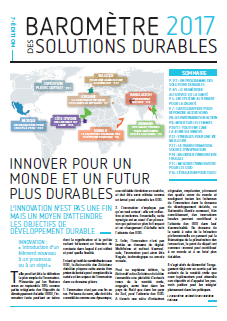 LAUNCH OF THE 2016 BAROMETER DURING THE 2016 WORLD CONVERGENCES FORUM
The Sustainable Solutions Barometer was launched on 7 September 2016 at the Hôtel de ville de Paris as part of the 9th World Convergence Forum. Around the issue "What partnerships for the SDGs? ", Philippe Azziz, Director of Social Activities at AG2R La Mondiale, Placide Nonguierma, President and co-founder of Comité 21 Burkina-Faso, Mathieu Ruillet, General Delegate of GERES and Sébastien Treyer, Director of Programmes at IDDRI, exchanged views, under the supervision of Sylvia Amicone, journalist at LCI.
This conference was an opportunity to discuss the many challenges that remain on the long road to the 17 Global Goals to end poverty, fight inequality and injustice, and address climate change by 2030.
THE PARTNERS OF THE BAROMETER