To fight exclusion, address climate change and reduce poverty, it is now essential to bring together a wide range of actors around a shared vision and a common agenda. And in particular the media. Media companies talk about problems very well – and this is essential. Talking about solutions is sometimes complicated and issues are numerous: fear of being perceived as naïve, or to appear as making publicity for instance.  There is therefore a balance to be found as there are also great stories of solutions being implemented to deal with societal issues.

In order to collectively find a way to share these stories more and better, Convergences organized, an evening on solution journalism at the Convergences World Forum, in partnership with Sparknews.
Why solution journalism? Often people, and you may be one of them, have the perception that we are talking mainly about what is going wrong. However there are so many wonderful projects that the media are able to relay
Admittedly, editorial staffs of mainstream media are still cautious but the movement for solutions-oriented media is growing. Demand among the general public, audiences and sales prove it. To share their experiences, three European figures of impact journalism were present during the media evening: Alison Gee, for BBC World Hacks (British public channel), Elena Comelli for Buone Notizie, the 30-page supplement of Corriere Della Serra (Italy's leading daily newspaper), which boosts the daily's sales every Tuesday; and finally Pasquale Ferrara for SRF (Swiss television channel) 10Vor10 programme.
Today's generation wants to hear not only about problems, but also about solutions
So, is it really the role of journalists to seek and promote solutions to societal and environmental issues? The speakers showed that it was possible and necessary to highlight these solutions more often. A model in this practice, 10Vor10, SRF's prime time news program, covered topics ranging from yoga classes in Argentinian jails to fight violence, to the South Korean startup that employs North Korean refugees to recycle car materials into suitcases.
There are solutions that can make you uncomfortable, and that's normal. The problem is to identify the solutions, limitations, failures or defects of an idea
However, a solutions-oriented editorial policy does not prevent legitimate questions and criticism: a TV report from the BBC on scanning homeless people with a barcode and a smartphone that was addressed with a "solutions" angle stirred up controversy. Maintaining a critical sense, even when tackling topics that are a priori positive is therefore crucial.
How can this kind of pitfall be avoided? Journalist Pasquale Ferrara says he has found the recipe for high quality impact journalism. Three basic ingredients are needed: a critical distance from the topics or projects to be addressed, a verification of the facts, and no fear of controversy.
Never before have so many French people (70%) feared climate change. But 43% felt that the media did not cover the subject sufficiently. The multiplication and sharing of these initiatives must be further increased
Moreover, in a difficult economic context that does not spare the media, impact journalism has the potential to re-engage the readership. Corriere della Sera (2 million copies per day in Italy) launched Buone Notizie on the initiative of Elisabetta Soglio, who has since become the editor-in-chief of this weekly supplement. However, this thirty-page solution-oriented document does not deprive itself of a critical vision of society. The results are conclusive. Every Tuesday, the day the supplement is published, the newspaper records an additional 10,000 sales. Advertisers such as Bayer, Philips, Alliance, ENI or ENEL are struggling with the advertising pages.
Despite the existence of a large and eager audience for this type of reading, Elisabetta Soglio encountered initial difficulties, as she struggled to convince the former publisher, as well as her colleagues, of the viability of her project. The project did not materialize until 2016, when a new publisher came in and agreed to invest more in this supplement. Its success is reminiscent of those of the French Libé des solutions and Nice Matin.
The event ended beautifully with about thirty journalists joining Christian de Boisredon on stage and showing that solution journalism is now a strong movement.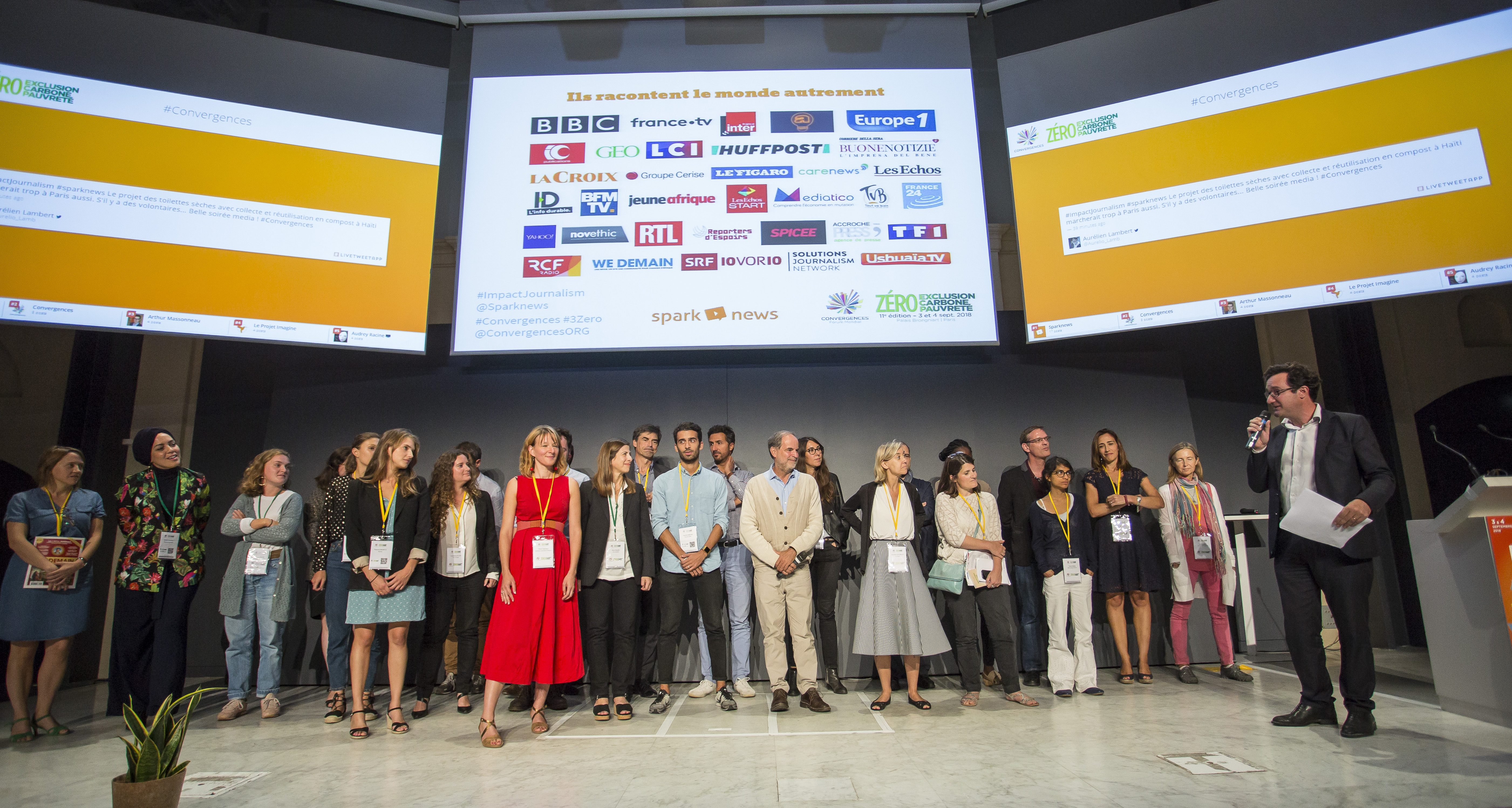 Christian de Boisredon, Sparknews
Elena Comelli, Corriere della Sera – Buone Notizie
Pasquale Ferrara, SRF 10Vor10
Alison Gee, BBC World Hacks
Bruno Goimier, Pernod Ricard
Audrey Jacquet, Sparknews
Emilie Poisson, Convergences
Valérie Martin, Ademe